If you want to lead the global mobile app rankings, you can't forget about localization
What makes a great mobile app?
 
What does it take to achieve global success?
 
To find the right answer, you can run extensive research, conduct surveys among users and developers, or… have a look at a mobile app ranking.  
At the end of December, Apptopia published the list of most downloaded apps worldwide in 16 categories:  Games, Entertainment, Shopping, Social Network, Food & Drink, QSR, Travel, OTA, Crypto, Remittance, Banking, Music & Audio, Health & Fitness, Dating, Business, Education. Of course, there was a general ranking as well which – unsurprisingly – was led by TikTok, Instagram, and Facebook.   
What do the top ranked apps have in common?
It seems obvious.
Unique features alone won't guarantee the top rank. Great design, effective marketing, good brand story may make your app extremely popular.
But if your aim is to rock the worldwide rankings, you'll need one more important ingredient: localization.
By adapting your app to the culture and language of local users, you can make your content more accessible, engaging, and user-friendly. After all, not everyone speaks English, and even those who do usually prefer to navigate digital content in their native tongue.  
So, let's have a look at some apps from Apptopia's lists to analyze how successful localization helps to achieve the top of ranking lists.
1. Spotify
The first app under the microscope is Spotify, leader in the Music & Audio Apps.
I've compared the original English app with the Polish version. At a first glance everything looks great. The texts are short enough to fit into the minimal space (which is often an issue in localization into Polish), the content is clear and engaging. But when you tap on the 2021 Wrapped, a feature available in the Search tab that presents a story summarizing the user's year, a few details pop up.
When I watched my 2021 Wrapped in Polish I was truly amused by the creative stories and funny texts. Until I switched back to English. My enthusiasm for the Polish localization dropped a bit when I noticed some differences. The original message (see the screenshots below) carries more humor than the localized version. The English version made me laughed, with the Polish I was only intrigued. Well, you can't have it all, I guess. Localization of Spotify into Polish still is very successful. There are only some tiny bits that could have been infused with more humor to make the local version as diverting as English.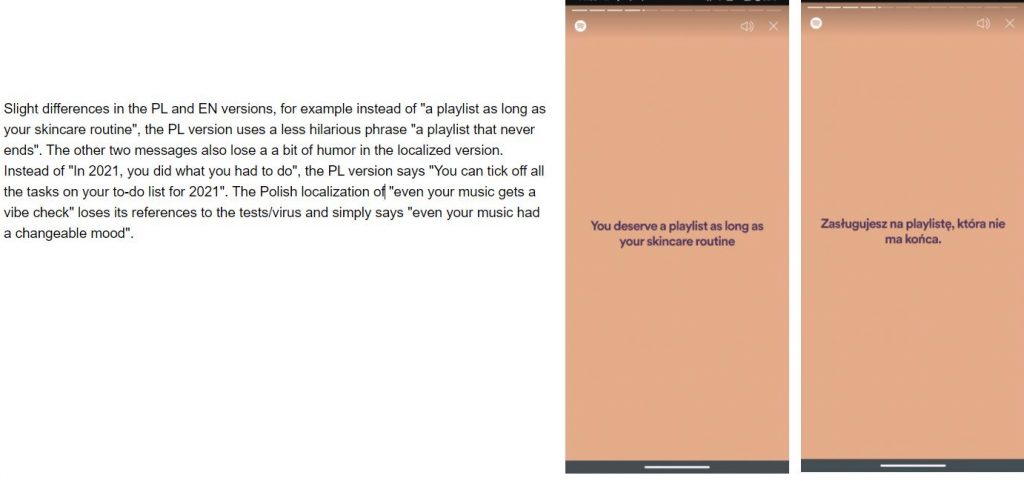 2. Home Workout – No Equipment
Now, once we listened to some music, it's time to get moving. Let's have a look at the Health & Fitness category.
The app no. 3 here is Home Workout – No Equipment. Let's quickly analyze how it was localized for the German market (launched as "Workouts zuhause – ohne Geräte").
Localizing fitness apps is quite a challenge, especially if there are plenty voice commands, exercise instructions, graphics, and videos. "Home Workout" did a great job, as the exercises, descriptions, instructions, and buttons are clear, correctly translated and fit into the limited layout. There are some little issues, like missing spaces or slightly incorrect exercise names. 
Three screen shots from the German version. It needs a tiny bit of polishing (missing space in "1.Tag" and probably a better translation would be "Incline-Push-Up" instead of "Bergauf-Push-Up").
3. Subway Surfers
All that moving made us tired, so let's sit back and relax with a gaming app. The leader of this category is Subway Surfers. And here's how it was localized for the Dutch market:
The game is equally engaging in both English and Dutch version, because… well, it simply is a great game. Easy, engaging and user-friendly. Localization doesn't limit the game experience: short and correct texts, no cosmetic issues, clear instructions, and smooth navigation. Maybe a good idea would be to localize the board names and few other terms. Games localized into Dutch usually contain quite a lot of English words, but taking into account the game's simplicity and its appeal to the young users, maybe showing more Dutch strings would help to engage the users even more. 
Nevertheless, the Dutch localization of Subway Surfers is quite successful. No wonder the game is very popular in this region as well.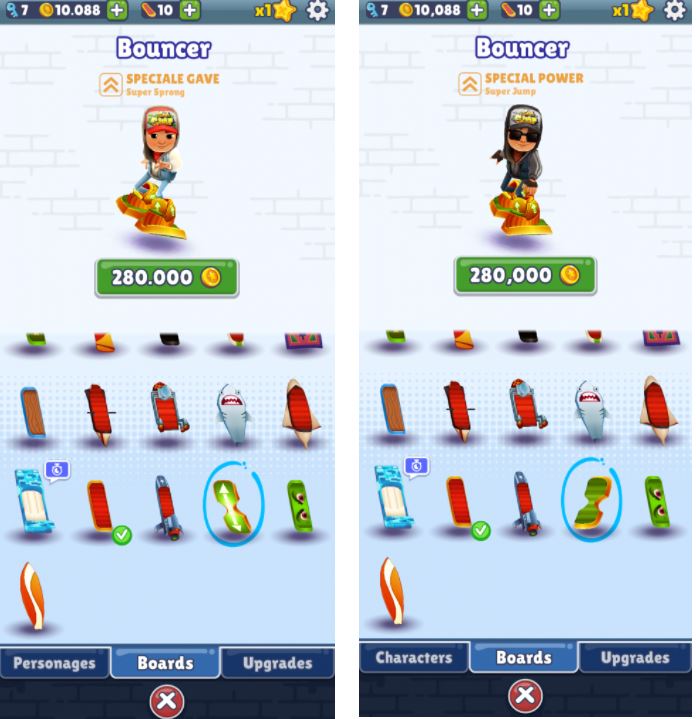 The English and Dutch screens with board selection.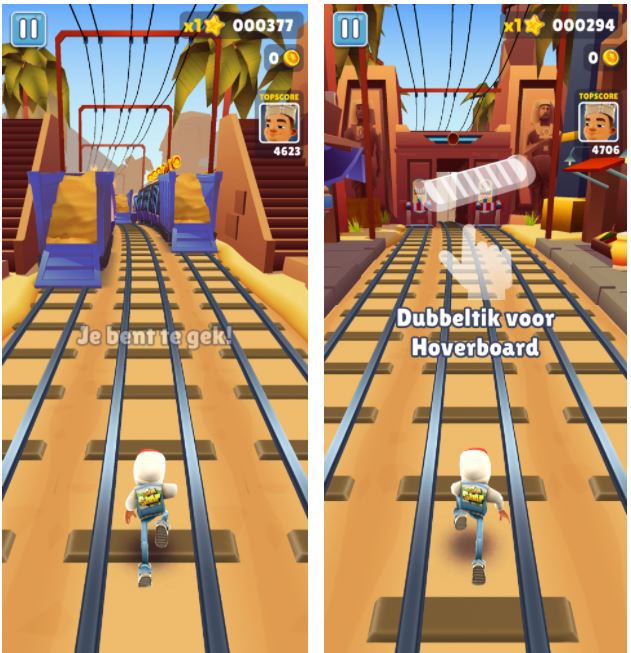 Two more screens from the localized Dutch version.
The apps featured in the worldwide ranking are there for a reason. To reach the top of the list, you can't only focus on creating a great and engaging product. What's equally important is to make sure that localization doesn't limit the end user experience and helps to get fully immersed into the app's world.
About the author: Dorota Pawlak
Dorota Pawlak is a localization consultant for digital and Web 3.0 brands. She enjoys helping businesses enter new markets and is passionate about cultures, languages, and technology.