Three steps worth including into your mobile app localization strategy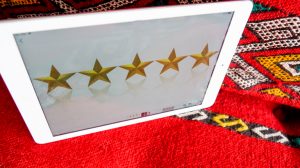 With a growing popularity of mobile devices across the world, mobile app localization is not an option anymore. For businesses that want to expand into new markets and attract international users localization is a key strategy.
In this intensive process it's easy to overlook some details which may not seem obvious at first glance. But in many cases it's the details that count and decide about the hit or flop of your app on the new market.
Below you can see three important steps that are often ignored in mobile app localization and find out why your localization process has to include them.
1. Localize your screenshots for app store description
App Store Optimization plays an important role, especially if you want to target international users. That's why a catchy and flawless app description in the language of your potential users is a key step to increasing your download rates. But that's not all.
Including the right keywords and adapting the app description may not be enough to encourage mobile users to hit the 'Install' button. You'll need to focus on localizing your screenshots as well.
Images speak louder than words, and your screenshots will be more encouraging than any description, no matter how unique it is. But to strike the right chord, you'll need to include screenshots from the right language version, not just rely on the universal images with the English UI.
In this way your target audience will get a full insight into the app and won't be destructed by any items displayed in a foreign language.
So, show that you care about your international users and add matching screenshots for each language version to your app store description.
2. Highlight your customer reviews for the specific market
Reviews are often more valuable than app descriptions. Your potential app users will normally look at a few of them before installing the app, so make sure your reviews are clearly visible to your target audience.
First of all, encourage your current users to leave their reviews and do it in their native language. In this way, they are more likely to leave the review in their language too, which will help you to collect a real language mix on your review tab in the app store.
For example Google Play, depending on the option you choose, will display all reviews chronologically or starting from the most helpful or the highest review. In any case, all reviews in all languages will be displayed together. Even if your target users can't understand the text they will definitely get the idea about your app based on the number of stars.
So why bother about the review in a specific language?
Well, a text review gives more details about the pros and cons of your app, allowing your future users to make a more informed decision.
Apart from encouraging your users to leave their feedback, try to highlight the reviews for the specific target market. You can, for example, add a link to your app description in every language to a page that aggregates all reviews in the same language. It may sound like some extra work to do, but remember about the law of attractions.
Like attracts like and so, once your users notice that other people from their country installed the app and value it highly, they will be more likely to follow their path.
3. Adapt your content to local seasonal event
Finally, don't forget about the local events in your target markets. Every country may celebrate different holidays and events that are a great opportunity to launch new marketing campaigns.
Once you know of a specific large sport event or music festival in the country of your target users, you can mention them in your adds or social media posts. You can offer special discounts for the local events or attract new users by explaining how your app will help to enjoy the celebration or holiday even more.
For example, if you have a navigation app, tell your users how it will help reach the venue, if it's a personal finance app, explain how it will help them keep track of their expanses during the event etc.
In other words, use the local touch to engage with the users from the local market and boost your download figure. This step is as important as communicating with your users in their native language. After all, it's not only the language that counts, but also the culture and local traditions.
Mobile app localization is not a one-off process. Once your app is localized, you'll still have to monitor how it behaves in every market and review the feedback of your users. From launching marketing campaigns for your localized apps, to polishing your app store descriptions and offering an easy access to reviews in a specific language – there's a lot you can do to improve your localization strategy in order to reach more downloads and generate more profit.
About the author: Dorota Pawlak
Dorota Pawlak is a localization consultant for digital and Web 3.0 brands. She enjoys helping businesses enter new markets and is passionate about cultures, languages, and technology.